Columbia University
Irving Medical Center
Neurological Institute
710 West 168th Street, 3rd floor
(212) 305-1818


Featured Research

In the Lab:
Patrick Lao, PhD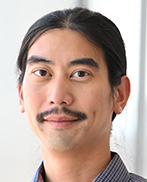 Patrick Lao, PhD
In vivo neuroimaging can provide repeat measures with regional brain information, which is critical because the spatial-temporal progression of pathophysiology, not just the pathophysiology itself, stages clinical dementia syndromes such as Alzheimer's disease. My PhD training was in positron emission tomography (PET) imaging, including radiochemical production, translation (i.e., animal to human, dosimetry, and test-retest studies) of novel radioligands for neurotransmitter systems (e.g., serotonergic system, nicotinic acetylcholine system) and the characterization of amyloid-β plaques, neurofibrillary tau tangles, neuroinflammation, and hypometabolism/neurodegeneration in Alzheimer's disease.
My postdoctoral training was in structural and vascular magnetic resonance imaging (MRI), including the validation of automated processing pipelines, development of brain templates, and incorporation of structural and vascular biomarkers into the Alzheimer's disease framework. Additionally, I gained experience in applied neuropsychology and advanced statistical modeling during my K99 award. Accurate biomarker quantification maximizes the power of biomarkers, as tools, to understand the same disease mechanisms in various contexts that can inform each other. As of July 2022, I am excited to continue as an assistant professor of neurological sciences (in Neurology and the Gertrude H. Sergievsky Center), as part of the Cognitive Neuroscience Division and the Taub Institute for Research on Alzheimer's Disease and the Aging Brain.
My research focuses on biomarkers of Alzheimer's disease in three contexts: adults with Down syndrome, adults with minoritized racial and ethnic identities, and adults with minoritized sexual and gender identities. Down syndrome is an intellectual and developmental disability caused by the triplication of chromosome 21, which also leads to the overproduction of the amyloid precursor protein, an early accumulation of amyloid-β plaques, and very high frequency of Alzheimer's disease dementia. Further, cerebrovascular disease is present in an Alzheimer's disease-dependent manner, despite the relatively low vascular risk in adults with Down syndrome. Obstructive sleep apnea, which is common even in children with Down syndrome, may exacerbate amyloid accumulation and vascular disease through reduced time spent in sleep states associated with toxin clearance and intermittent hypoxic events, respectively.
Minoritized racial and ethnic groups are at a higher risk for Alzheimer's disease dementia due to structural forces that provide barriers to optimal brain aging, particularly in terms of cerebrovascular disease. During midlife, Alzheimer's disease biomarkers are similar across groups, but cerebrovascular biomarkers are greater in minoritized racial and ethnic groups. During late life, Alzheimer's disease biomarkers affect cognitive decline more broadly (i.e., decline in several domains, including memory) in minoritized racial and ethnic groups, potentially through the added influence of cerebrovascular disease.
Adults with sexual and gender minority identities experience minority stressors (e.g., stigma, discrimination, lower social support), have high risk for Alzheimer's disease, and frequently endorse subjective cognitive complaints. Knowledge gaps and preliminary data related to minority stressors in Alzheimer's disease support future studies with multimodal biomarker quantification and objective cognitive assessment. The well-documented mood and substance use disorders in sexual and gender minorities during early adulthood may additionally contribute to Alzheimer's disease pathogenesis and can be assessed with neurotransmitter PET imaging following the cholinergic hypothesis of Alzheimer's disease. Generalizability of Alzheimer's disease research, and more importantly treatment strategies, depends on careful consideration of within group contextual factors that influence biomarker level, susceptibility to biomarkers, and cognitive outcomes.
Related publications can be found at the NIH National Library of Medicine website.
Patrick Lao, PhD
Assistant Professor of Neurological Sciences (in Neurology and in the Gertrude H. Sergievsky Center)
pjl2133@cumc.columbia.edu