Columbia University
Irving Medical Center
Neurological Institute
710 West 168th Street, 3rd floor
(212) 305-1818


Featured Research

CLINICAL RESEARCH:
Karen Marder, MD, MPH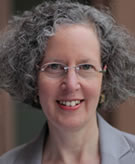 Karen Marder, MD, MPH
For more than two decades at Columbia University Medical Center, as both a clinician and a clinical researcher, Dr. Karen Marder has focused on the epidemiology and treatment of cognitive, behavioral, and motor impairment in a range of neurodegenerative diseases including, Parkinson's disease (PD), Huntington's Disease (HD), HIV dementia, and Alzheimer's disease (AD) and related disorders. Since 2001, Dr. Marder has served as chief of the Department of Neurology Division of Aging and Dementia, the patient care arm of the Taub Institute, through which many participants are recruited for Taub research studies and clinical trials. Her overall research focus is centered on the characterization of phenotypic profiles in genetic mutation carriers, and the determination of penetrance among specific genotypes.
From 2006–2012, Dr. Marder served as co-chair and, subsequently, chair of the executive committee of the Parkinson Study Group, a consortium of investigators who participate in collaborative PD research at 120 sites across North America. At Columbia, her PD research is a collaborative effort between researchers in the Taub Institute, including Drs. Lucien Cote, Elan Louis, Lorraine Clark, and Elise Caccappolo, and faculty from the Department of Neurology Division of Movement Disorders, particularly Dr. Roy Alcalay.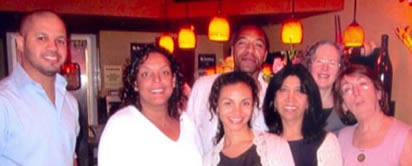 PD Research Associates include (left to right): Llency Rosado, Helen Mejia-Santana, Ernest Roos (back center), Diana Ruiz (front center), Martha Orbe Reilly, Karen Marder, and Carol Moskowitz.
Dr. Marder and her collaborators, along with her PD research associates (pictured right), have completed characterization of the largest systematically examined cohort of early-onset PD cases, as part of the Consortium on Risk of Early Onset PD (CORE-PD) study, which has enabled the description of the frequency of known mutations in early onset PD, and the predictors of carrying a mutation.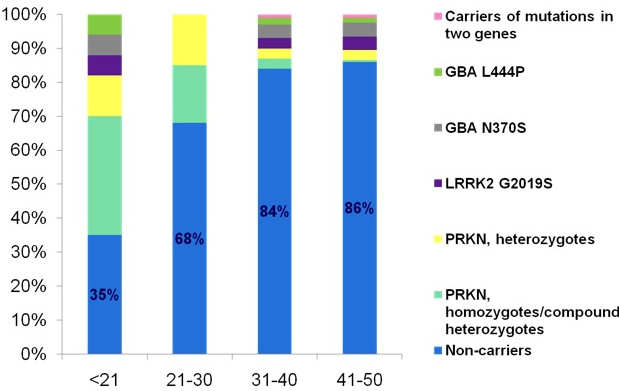 Mutation Frequency By Decade Of Disease Onset In Parkinson's Disease
Credit: Alcalay et al.
Arch of Neurology,
2010
Non-motor features, including cognitive, psychiatric, and autonomic dysfunction, are now believed to be among the earliest features of PD, occurring well before the onset of motor signs. The identification of these non-motor symptoms may help identify individuals who might benefit from early intervention, particularly those who carry known genetic mutations. In future research, Dr. Marder would like to continue to characterize the specific features associated with genetic forms of PD in the hope of identifying the optimal time for intervention. Ultimately, she would like to translate basic science efforts on mechanisms of genetic forms of PD to treatments, through well-designed, biomarker-informed clinical trials.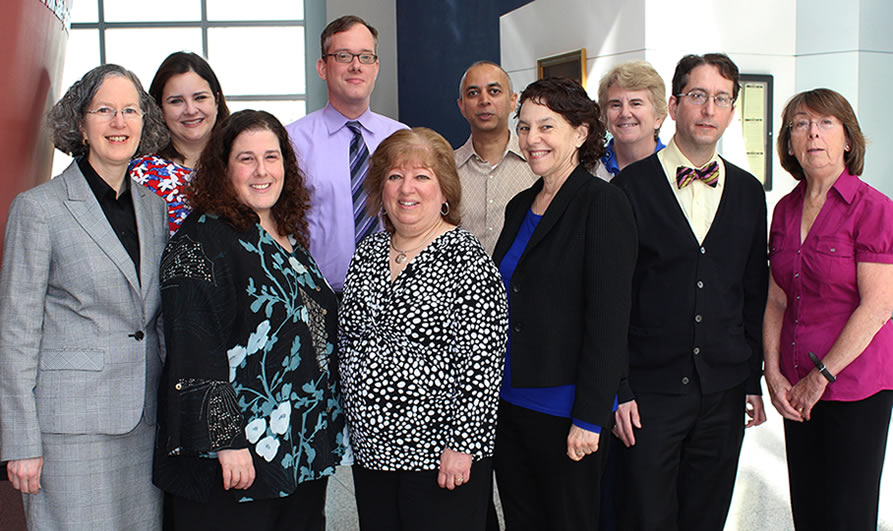 Members of the Huntington's Disease Society of America (HDSA) Center of Excellence include, back row from left: Sarah Janicki, Mark Groves, Ashwini Rao, and Jeanne Thomson. Front row: Karen Marder, Paula Wasserman, Ronda Clouse, Deborah Thorne, Elan Louis, and Carol Moskowitz. Not pictured: Jill Goldman, Pietro Mazzoni, Erika Cabrera, Masood Manoochehri, Adolfo Ovalles, and Katie Berry.
In HD research, Dr. Marder is the current and founding director of the multidisciplinary Huntington's Disease Society of America (HDSA) Center of Excellence at the New York State Psychiatric Institute, where she and her HD team (pictured right) conduct a wide range of observational research and clinical trials for people with Huntington's disease, and those at risk. She directs a genetic testing program at the Center of Excellence, and is particularly interested in assessing the knowledge and attitudes of people at risk for genetic forms of HD. She is further interested in characterizing the range of motor, cognitive, and psychiatric changes from the premanifest to manifest HD.
Dr. Marder also serves as associate director of the Irving Institute for Clinical and Translational Research (CTSA), where she directs the Clinical Research Resource for adult and pediatric inpatient and outpatient research. She is the co-principal investigator of a National Institute of Neurological Disorders and Stroke (NINDS)-funded Network for Excellence in Neuroscience Clinical Trials (NeuroNEXT) site at Columbia University Medical Center and Weill Cornell Medical Center—part of a 25-site clinical trial network aimed at conducting Phase II biomarker informed neurological clinical trials over a 7-year period.