Columbia University
Irving Medical Center
Neurological Institute
710 West 168th Street, 3rd floor
(212) 305-1818


Featured Research

Center of Excellence for
Alzheimer's Disease (CEAD) at
Columbia University Irving Medical Center

A Q&A with CEAD Director Dr. Lawrence Honig
The Center of Excellence for Alzheimer's Disease (CEAD) at Columbia University Irving Medical Center was established just over two years ago, with the primary goal of increasing access to subspecialist neurological care for Alzheimer's disease and related disorders among underserved populations in New York State. Here, CEAD Director Dr. Lawrence Honig provides an update on the CEAD's progress, thus far:

Dr. Honig, please tell us how is it going at the CEAD?
LH:
The Center of Excellence for Alzheimer's Disease (CEAD) is, indeed, now two years into its existence. The program has been very much meeting its goals of providing subspecialty access to underserved persons with cognitive disorders, and providing training and education. We have evaluated more than 300 new patients that otherwise would not have had this access, and have arranged social services and help for these patients. We are pleased to be serving the local community, and increasing patient access to our subspecialists, as well as to research opportunities in Alzheimer's and related disorders. Our
CEAD team
, which is mostly bilingual in Spanish, is pleased to be able to offer a
wide range of services
, made possible by the New York State funding. Our Program Coordinator, Priscilla Liriano, provides administrative leadership and, together with Nurse Practitioner Koli Gangopadhyay and Social Worker Daisy Laureano, they provide the interface many of our patients so appreciate in English or Spanish, during clinical evaluation and care management.

Tell us about your recruitment efforts.
LH:
Our team has been active in sharing information about CEAD services through a variety of outreach efforts, including lectures at local facilities, workshops, working with the Alzheimer's Association and the organization Caring Kind, and large CME activities, including programs with the Dominican Medical Association and with the 1199 Union. Members of our center have spoken at these various events. We also have created a number of
video television programs
, which can now be accessed by patients, caregivers, and healthcare workers alike.

Another goal for CEAD was to make patient-oriented research (e.g., clinical trials) more accessible to interested participants, again, particularly in underserved populations. How is the CEAD accomplishing this?
LH: We encourage all CEAD patients to consider research participation. Our goals are to help establish adequate access to research for underserved populations, and also to be certain that our research studies have a diversity of participants. Our Nurse Coordinator Betina Idnay assists in identifying potential participants and answering questions they may have about participation in research, working together with team members Evelyn Dominguez, Jill Goldman, and Scott Reid, who coordinate research activities in drug trials, genetics, and brain donation, respectively.

The CEAD has recently compared the demographics and diagnoses between patients seen in the Division of Aging and Dementia clinical practice and patients seen in the CEAD. What have you found?
LH: We have found that patients seen through the CEAD referral process are much more likely to be Hispanic or African-American, more likely to be Spanish speaking, and more likely to have no health insurance or Medicaid.
1. CEAD provides neurological care to a greater proportion of Hispanic and Black/African Americans than the Faculty Practice Office (FPO) patient population.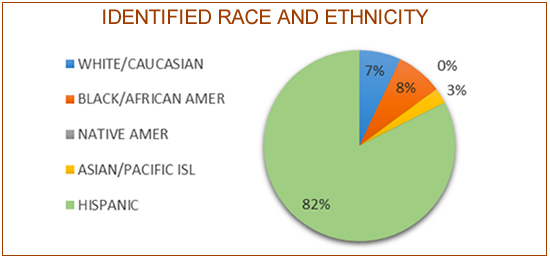 [see pdf for larger image]


2. Alzheimer's Disease and Mild Cognitive Impairment (MCI) are found to be the most common diagnoses in both practice groups.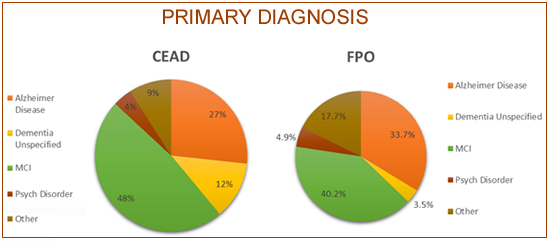 [see pdf for larger image]


3. Both FPO and CEAD provide neurological care to relatively the same age group (Mean = 74, SD=±11.5).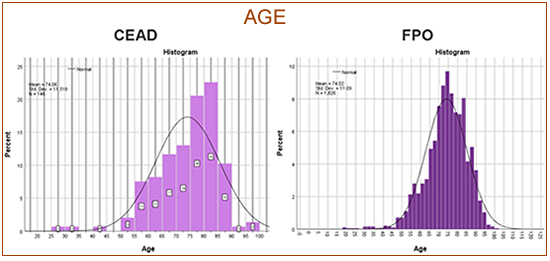 [see pdf for larger image]

4. More women than men were evaluated for cognitive impairment in both practice groups.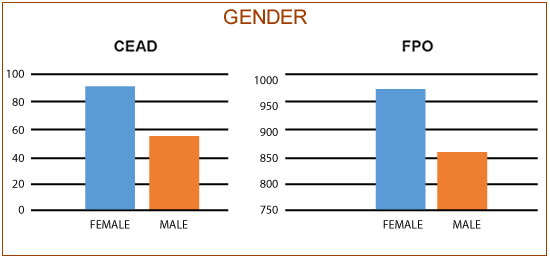 [see pdf for larger image]

What is planned in terms of future activities?
LH: We will continue to track our progress toward specific CEAD goals, including providing social services for our patients, exploring caregiver attitudes among the underserved, and improving research recruitment in underrepresented communities. In addition, we plan to conduct further research comparing both practices after a full 3 years of CEAD operation. For instance, onset of symptoms in comparison to date of initial evaluation could be explored to show when patients access services, when cognitive impairment has severely progressed, or when treatment appears urgent. And, while we did not find a significant number of patients in either the CEAD or FPO practices with a psychiatric disorder as their primary diagnosis, further research could help demonstrate such as a co-occurring disorder; we could compare co-occurring disorders as a secondary diagnosis. Lastly, by comparing the patients' possible eligibility in research study participation in both groups on the informing visit, we hope to show how we can improve research recruitment among underserved communities.