Columbia University
Irving Medical Center
Neurological Institute
710 West 168th Street, 3rd floor
(212) 305-1818


Featured Research

In the Lab:
Tal Nuriel, PhD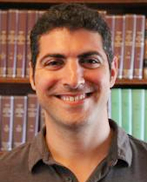 Tal Nuriel, PhD
Research efforts in my laboratory are primarily focused on understanding the mechanisms responsible for the increased risk of Alzheimer's disease (AD) among carriers of the apolipoprotein E ε4 (APOE4) allele. This research began during my postdoctoral work in the Taub Institute, in the laboratory of Dr. Karen Duff. Together, we performed a large-scale multi-omics screen to determine the effects of differential APOE isoform expression on metabolomics, lipidomics and transcriptomics changes in AD-linked brain regions in mice and humans. During the course of this work, we uncovered several novel findings, including observations that APOE4 expression in the entorhinal cortex (EC) of aged APOE targeted replacement mice has unique effects on neuronal activity, endosomal-lysosomal function and bioenergetics. The reports on APOE4's effects on neuronal activity and endosomal-lysosomal function in the EC were both published in late 2017, and the report detailing the effects of APOE4 expression on bioenergetics was published in March 2020. Together, these studies reveal a diverse set of Aß-independent outcomes of APOE4 expression in a vital, AD-vulnerable brain region, which may play a causative role in the pathogenesis of AD.
As a result of this work, I was able to obtain independent funding, including a K01, an R21 and a "Next Generation of Researchers in Alzheimer's Disease" R03 award, and in January 2019, I was promoted to assistant professor in the Department of Pathology and Cell Biology (in the Taub Institute). My research continues to utilize systems biology approaches to further investigate these important and likely interconnected effects of APOE4 expression in the brain, as well to identify additional novel pathways. Together with the following talented individuals, my lab has several ongoing projects that we are excited to continue pushing forward:
Figure:
Summary of Previously Reported Findings on APOE4's Effects in the EC.
A summary of reported data from three separate studies. (A)
APOE4
expression increases neuronal activity in the EC of aged
APOE
mice, as demonstrated by cerebral blood volume (CBV) increases measured by fMRI and local field potential (LFP) increases measured by
in vivo
ephys in 18-20 mo
APOE4/4
vs.
APOE3/3
mice. (B)
APOE4
expression causes increases the number and cell area of early endosomes and lysosomes in the EC of aged
APOE
mice, as measured by immunohistochemistry (IHC) in 18 mo
APOE4/4
vs.
APOE3/3
mice. (C)
APOE4
expression results in differential bioenergetics regulation in the EC of aged
APOE
mice, as demonstrated by oxygen consumption rate (OCR) measured by Seahorse Analysis in 20 mo
APOE4/4
vs.
APOE3/3
mice.
Research Technician Hirra Arain is responsible for the majority of my wet lab research, including a TAME-AD funded single-nucleus sequencing project on APOE mouse brains. Hirra has developed novel multiplexing antibodies for simultaneous labelling and sequencing of nuclei from different samples, and is also responsible for a large mouse and cell-culture project to characterize the effects of differential APOE isoform expression on the propagation and neurotoxicity of tau pathology. During this challenging pandemic period, Hirra is keeping busy with data analysis and, like all of us, is looking forward to getting back into the lab as soon as it is safe to do so.
Helen Figueroa is an experienced animal technician who managed the Duff lab mouse colony for nearly 15 years. Helen's time is now split evenly between myself and several other Taub Institute investigators, including Dr. Natura Myeku, Dr. Abid Hussaini, and Dr. Catherine Clelland. Helen's role has been crucial during this shutdown period, as the survival and wellbeing of our aging mouse lines are essential to our ability to continue our research efforts once the stay-at-home restrictions are eased. Helen walks to campus several times each week to check on the mice and to tend to pressing issues flagged by the mouse facility.
Gautam Kumar is a data scientist and biostatistician who works with me and with Dr. Abid Hussaini. Gautam's data science skills have become even more valuable during this shutdown period, as my lab has temporarily shifted many of our research efforts toward bioinformatics. To that end, Gautam has been downloading, organizing, and analyzing online datasets from Synapse and ADNI. Utilizing these datasets, Gautam and I have begun several exciting and large-scale projects investigating the effects of APOE4 expression on RNA and metabolite levels, as well as on imaging biomarkers, in different brain regions of AD patients and healthy controls.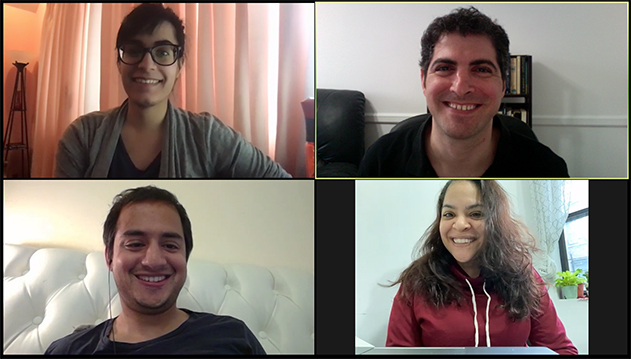 Members of the Nuriel lab collaborating remotely! Clockwise from top left: Hirra Arain, Tal Nuriel (PI), Helen Figueroa, and Gautam Kumar.
Lastly, given the current pandemic, I am in the process of setting up collaborations to investigate the role of APOE4 in the severity of SARS-CoV-2 infection, especially as it relates to potential brain infectivity and the long-term effects that this might pose. Although these research efforts are in the very early stages, I am eager to investigate whether an individual's APOE genotype may play an important role in SARS-CoV-2 infection and in COVID-19 disease progression.
Tal Nuriel, PhD
Assistant Professor of Pathology and Cell Biology (in the Taub Institute) at the CUMC
tn2283@cumc.columbia.edu