Columbia University
Irving Medical Center
Neurological Institute
710 West 168th Street, 3rd floor
(212) 305-1818


Featured Research

ADRC Update:

An Interview with Dr. Scott Small

Congratulations on the new P30 funding for the Alzheimer's Disease Research Center (ADRC) at Columbia! Please bring us up to date on this new award from the NIH/NIA ADRC program, and what it means for Columbia's ADRC.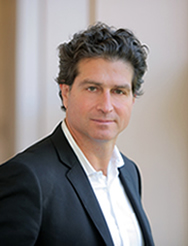 Scott Small, MD
Thank you, yes, it's been a years-long process leading up to this new funding and we're very excited! So, a brief history: A P50 ADRC at Columbia was first awarded in 1989, and has continued for seven remarkably successful cycles, ending in 2020. In 2013, just ahead of the
ADRC's 25th anniversary
, I took over leadership of Columbia's ADRC from its founding director, Dr. Michael Shelanski. Happily, Dr. Richard Mayeux, a co-director of the Center from its inception, has agreed to stay on, and Dr. Mike Shelanski has agreed to continue providing his always wise, behind-the-scenes, counsel. I am indebted to them both for the Center's continued success.
In terms of the overall
NIH/NIA ADRC program
, I would say that the groundswell of its success became clearly evident during the first decades of the 21st century. The availability of large-scale populations and new sequencing techniques enabled a dramatic expansion in the discovery of Alzheimer'Äôs disease (AD)-associated genes, and shifted the focus from rare, autosomal dominant forms of AD to the more common, late-onset 'Äėsporadic'Äô form of AD, which accounts for over 95% of all cases. Working together with cell biologists and animal modelers, these efforts expanded the biological pathways linked to AD, extending beyond amyloid and tau pathology, to include an 'Äėimmune response'Äô pathway, a 'Äėcholesterol metabolism'Äô pathway, and an 'Äėendosomal trafficking'Äô pathway.
During the same time period, on the clinical level, investigators across the ADRC program developed, optimized, and validated neuroimaging and biofluid AD biomarkers, so that we can now assess, in living patients, what Alois Alzheimer's first saw over a hundred years ago under the microscope: amyloid pathology, tau pathology, and neurodegeneration. We can now track the temporal profile of these three pathologies, how each prognosticates disease progression, how they relate to each other, how they underlie cognitive symptoms, and how they might be used for diagnosing AD in its earliest stages.
This convergence of biological insight with biomarker capabilities'ÄĒenabled by research, I might add, in which Columbia, and Taub investigators especially, played a central role'ÄĒhas ushered in a new era of AD therapeutics, a remarkable milestone in our field. Therefore, in 2016, the NIH/NIA leadership decided to assemble an outside panel of experts to reevaluate the ADRC program and determine how to continue its history of success amid this new landscape.
The panel issued their recommendations in 2017, many of which were incorporated into our most recent RFA. Collectively, these events inspired the conception of a new P30 ADRC at Columbia, which is designed to build off of the successes of our previous P50, and the successes of the ADRC program, more generally.

How has this new P30 funding changed the focus of Columbia's ADRC?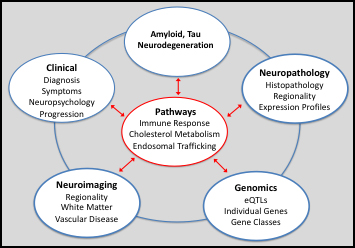 After much deliberation, both internally and in partnership with the External Advisory Committee members and NIA officers, we have decided to pursue a broad new theme focused on gaining a much deeper understanding of the relationship between the three pathologies and the three biological pathways (as described above): how to detect the pathways
in vivo
; how they relate with each other; how they relate to amyloid, tau pathology, and neurodegeneration; and, more broadly, how they relate to the phenomenology, neuropathology, neuroimaging, and genomics of AD. However, as a P30 ADRC, our goal will not be to answer these questions, but rather, to establish a research infrastructure that will generate new tools and resources, to allow these questions to be addressed. The overall objective of our ADRC is, of course, to support, foster, and accelerate AD research both locally'ÄĒhere on the Columbia campus'ÄĒas well as nationally and globally. Guided by this theme, we aim to do so by better serving our community of basic, translational, and clinical investigators, many of whom are interested in these biological pathways. And by sharing the tools and resources we generate with other investigators and institutions for potential use in clinical trials, as drugs are being developed against these pathways.
This theme, I might add, resonates with the ambitious milestones set out by the
National Alzheimer's Project Act (NAPA)
to prevent or treat AD and related disorders. And we believe that our local strengths are well-suited to establish this research infrastructure and to modify and improve it as the biology continues to mature. Just as the first couple of decades of the ADRC program clarified many similar questions that existed over amyloid and tau pathology, it is time to try and clarify the outstanding questions about these pathways, challenging as they are.

What changes are in store for the ADRC under the new P30?
I am pleased to officially announce that we finally have a full time administrator for the ADRC, which is an incredibly important position. That person is Allison Heaps. Allison has the right energy, the right skills, is completely committed to the work, and is superb at keeping us all in line, because there are a lot of moving parts, so this will make a major difference, and we're thrilled to have her.
A distinguishing feature of the new ADRC cohort is that we have decided to obtain an extensive panel of biomarkers on all participants, including CSF samples and research-grade MRIs in all participants, with some longitudinal biomarkers This requirement is based on the emerging importance of biomarkers, not just for being able to assess amyloid, tau pathology and indicators of neurodegeneration, but also for being able to evaluate new potential biomarkers for the AD-associated biological pathways. This mandate will fall under the purview of a new
Biomarker Core
, led by Dr. Adam Brickman, which will store and analyze the CSF and blood samples, as well as store and analyze the research-grade MRIs.
The mission of this Core extends beyond analyzing the CSF and the MRIs of the Center's new cohort. In alignment with the Center's broader mission, the Core will be tasked with acting as a consultant and advisor on all AD-related neuroimaging studies across our broad campus.
Therefore, Dr. William (Chuck) Kreisl will be a co-leader of the Core. With Dr. Kreisl's expertise the Core will therefore provide the intellectual and analytic infrastructure for all PET studies on AD and related disorders. For the same reason Dr. Frank Provenzano will be another co-leader in the Core. Dr. Provenzano is a biomedical engineer, developing a research program on imaging bioinformatics and machine learning. Last but certainly not least, Dr. Sabrina Simoes will be the third co-leader and will oversee the biofluidic component of the Core.
Education has always been a central mandate of our Center. Another notable improvement in the new cycle is a new module, the
Research Education Module (REC)
, headed by Dr. Stephanie Cosentino. Under Stephanie'Äôs incredible leadership and deep insight, the REC module is designed to educate, inspire, and mentor the next generation of investigators, thus assuring the future of our Center and Alzheimer'Äôs research, even when we'ÄĒthe old guard'ÄĒare gone.
Within our established Cores, there have been several changes in leadership. Fortunately, most of our P50 Core leaders, and the incredible work and wisdom they've contributed to the ADRC, are remaining with the Center in various capacities. And other faculty, new to the ADRC but well established within Taub, are taking over leadership of several cores, with exciting new skillsets that will enhance and expand our collective resources, to better serve ADRC constituents, both locally and globally.
To outline these changes briefly, Dr. James Noble will lead the
Clinical Core
, the Center's central component, with its mandate of enrollment, phenotypic characterization, imaging, biospecimen acquisition, and follow-up to autopsy. At the behest of Dr. Jean-Paul Vonsattel as he nears retirement, Dr. Andy Teich has taken over leadership of the
Neuropathology Core
. Dr. Vonsattel will stay on as co-leader for the time being. The
Database Management and Statistical (DMS or 'ÄúData'ÄĚ) Core
will be led by Dr. Howard Andrews, with co-leadership from Dr. Nicole Schupf. Dr. Karen Bell has opted to step-down as primary leader of the
Outreach, Retention, and Engagement Core
, which will now be led by Dr. Edward (Ted) Huey, with Dr. Bell remaining as co-leader.
During the last cycle of our P50 ADRC, Dr. Christiane Reitz took over leadership of the
Genetics Core
from its founding director, Dr. Richard Mayeux. In addition, we received supplemental funding to establish a novel
Neuroimmunology Core
, which will continue to be headed by Dr. Philip De Jager.
We are currently reviewing applications from our recent call for new
Development Project Grant Awards
(deadline August 1, 2020). Stay tuned for more exciting developments to come!