Columbia University
Irving Medical Center
Neurological Institute
710 West 168th Street, 3rd floor
(212) 305-1818


TaubCONNECT Research Perspectives:
Best Poster Presentations
Taub Institute Retreat November 2018
NSUN2 is Dysregulated in Alzheimer's Disease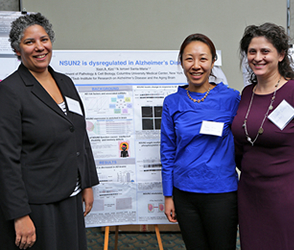 Pictured (from left to right): Dr. Jennifer J. Manly, Yoon A. Kim, and Dr. Inbal Israely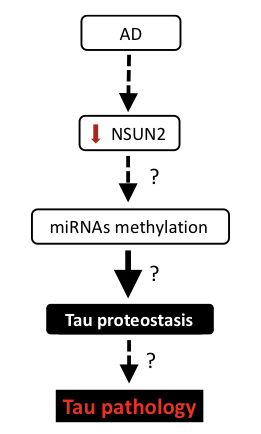 Figure: Investigating the role of NSUN2 in Alzheimer's disease.
Yoon A. Kim1,2 & Ismael Santa-Maria1,2
1Department of Pathology & Cell Biology, Columbia University Medical Center, New York, NY.
2Taub Institute for Research on Alzheimer's Disease and the Aging Brain.


Accumulation of extracellular amyloid beta (Aβ) deposits, intracellular neuronal tangles composed of hyperphosphorylated tau and synaptic loss are the main hallmarks of Alzheimer's disease (AD), the most prevalent form of dementia. Currently, the molecular basis of AD is unclear. However, several studies support that altered microRNA (miRNA) expression and/or function plays an important role in AD pathogenesis. However, the mechanisms governing how miRNAs are regulated in the brain are poorly understood. RNA methylation is a prevalent posttranscriptional modification that regulates accuracy of translation initiation, RNA stability, biogenesis and processing of RNA. Historically, it has been shown that methylation occurs on transfer RNA, ribosomal RNA and messenger RNA. Recently, methylation of miRNAs has also been found. However, methyltransferases involved in this process are still under investigation. NSUN2 is one the few known brain-enriched methyltransferases in higher eukaryotes that is able to mediate methylation of miRNAs. Moreover, the loss of NSUN2 in Drosophila and mouse models causes memory and learning deficits, indicating a potential role of NSUN2 in cognitive function. Furthermore, in humans, mutations in the NSUN2 gene cause intellectual disability. Interestingly, the role of microRNA methylation in AD pathogenesis has not been reported. Here, our data supports dysregulation of NSUN2 in post-mortem brain tissue from AD patients when compared to healthy controls. In addition, we found that oligomeric Aβ induces both dysregulation of NSUN2 and changes in tau proteostasis in primary neuronal cultures. Furthermore, bioinformatic analysis shows predicted methylation sites in miRNAs that have been implicated in AD, supporting a possible link between NSUN2 dysfunction, microRNAs and AD pathogenesis.
Yoon A. Kim
Student, Graduate Program in Pathobiology and Molecular Medicine
Columbia University Irving Medical Center
yk2477@cumc.columbia.edu

High-throughput Disease Modeling to Uncover Shared and Unique Characteristics Among Neurodegenerative Diseases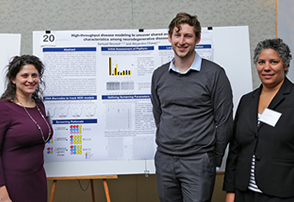 Pictured (from left to right): Dr. Inbal Israely, Samuel Resnick, and Dr. Jennifer J. Manly



Figure: DNA-barcoded libraries allow us to multiplex high-throughput screening by studying multiple disease models in the same screen. This application towards neurodegenerative diseases gives us the ability to rapidly and efficiently identify novel phenotypic modifiers for a wide range of genes implicated in neurodegeneration.
Samuel Resnick 1,2,3 & Alejandro Chavez 1,2
1 Taub Institute for Research on Alzheimer's Disease and the Aging Brain, Columbia University
2 Department of Pathology and Cell Biology, Columbia University
3 Columbia University Vagelos College of Physicians and Surgeons
The ability to assay multiple cellular models of disease in parallel against a wide variety of experimental conditions in lieu of traditional one-at-a-time approaches would greatly increase the scope of known cellular responses in disease. Here, we develop a scalable, inexpensive, and multiplexed approach to identify genetic modifiers of aggregation-prone proteins implicated in a variety of neurodegenerative diseases during a single experiment. Using DNA-barcoded yeast, we screen upwards of 4000 potential interactions between aggregation-prone proteins and molecular chaperones and subsequently identify numerous interactions that rescue aggregation-prone protein mediated cellular toxicity. These hits are comprised of previously reported chaperone-aggregate interactions in addition to novel interactions that will be followed up in mammalian models of disease.
Samuel Resnick
Student, Graduate School of Arts and Sciences
Columbia University Irving Medical Center
sjr2179@cumc.columbia.edu