Columbia University
Irving Medical Center
Neurological Institute
710 West 168th Street, 3rd floor
(212) 305-1818


TaubCONNECT Research Perspectives:
July 2019
Alzheimer's Association International Conference (AAIC 2019)
Earlier this month, thousands of dementia researchers, clinicians, and related healthcare professionals from around the globe gathered in Los Angeles, CA for the annual Alzheimer's Association International Conference (AAIC 2019). Each year, Taub faculty members travel to this event to share their groundbreaking research and network with others in the field. Below are some highlights of presentations given by Taub faculty at this year's conference:
Dr. Philip L. De Jager detailed latest efforts by his team in the Center for Translational and Computational Neuroimmunology to identify "omic" changes related to AD pathology in the frontal cortex, and how these approaches are now being applied to other brain regions and peripheral monocytes in which the relationship to neurovascular disease may be more pronounced.
Dr. Yian Gu presented results from a recent study on the protective role of physical activity (PA) on Alzheimer's disease risk, which suggest that both young and old individuals can reduce their likelihood of developing AD via physical activity, including frequent light-intensity activities.
Dr. William (Chuck) Kreisl presented research in which the 18F-MK-6240 PET radioligand appeared to identify tau pathology in preclinical Alzheimer's disease and primary age related tauopathy, and to distinguish cases of hippocampal-sparing AD and an amyloid pathophysiological process with a concomitant non-tau copathology (A+T-N+) from typical AD.
In a focused topic session on the importance of the proposed nomenclature for Limbic-Predominant Age-related TDP Encephalopathy, Dr. Jennifer Manly participated in a panel discussion on "LATE into the World of Alzheimer's Dementia? Nomenclature to Advance Science amidst Multiple Stakeholders."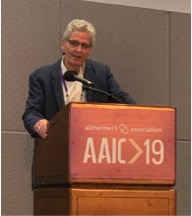 Richard Mayeux, MD, MSc
Taub co-director Dr. Richard Mayeux (pictured right) detailed his team's work on the first investigation to establish a genome-wide statistically significant association between multiple, extremely rare, loss-of-function variants in SORL1 and Alzheimer's disease, in a large whole-exome study of unrelated cases and controls.
Latest research presented by Dr. Christiane Reitz confirmed previously reported risk loci and identified several novel candidate loci for AD in African Americans. Her findings also highlighted Wnt signaling as a potential causative pathway, and substantiated a potential involvement of KCNMB2 at 3q26.32, which recently emerged as the top locus associated with hippocampal sclerosis pathology in a genome-wide association study using brain neuropathologic data.
Expanding on his previous work on retromer, a protein complex central to endosomal trafficking and linked to Alzheimer's disease, Dr. Scott Small presented results from his latest study, which show that retromer/endosomal dysfunction in mice can recapitulate neuronal and glia defects observed in AD.
Dr. Yaakov Stern chaired the Alzheimer's Association ISTAART Professional Interest Area (PIA) on "Reserve, Resilience, and Protective Factors in Alzheimer's disease," which he first initiated four years ago. This will be Dr. Stern's last year chairing this scientific session, though he will remain in a leadership role as Immediate Past Chair at the AAIC 2020. At the meeting, Dr. Stern also delivered a business talk about the 1st Workshop on Research Definitions for Reserve and Resilience in Cognitive Aging and Dementia that he will be chairing this September.
Dr. Sarah Tom presented results of her recent study examining the contribution of life course risk factors to dementia incidence trends, which found that, among women born in the first half of the 20th century, dementia incidence was lowest for those born during the Great Depression. These relationships were not completely mediated by early life socioeconomic status or education.