Columbia University
Irving Medical Center
Neurological Institute
710 West 168th Street, 3rd floor
(212) 305-1818


TaubCONNECT Research Perspective:
February 2023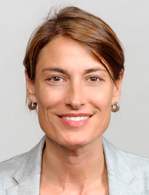 Francesca Bartolini, PhD
Microglia Reactivity Entails Microtubule Remodeling from Acentrosomal to Centrosomal Arrays
Microglia cells are a specialized cell type that acts as a "sentinel" in our brain and plays critical roles in neuroinflammatory and neurodegenerative disease. Activating signaling triggers a change in microglia morphology that reflects a highly activated state associated with phagocytosis and proinflammatory function. The intracellular mechanisms driving microglia transition from the homeostatic to a reactive state are however poorly understood. This is partially due to challenges in imaging purified microglia without perturbing their homeostatic or reactive state.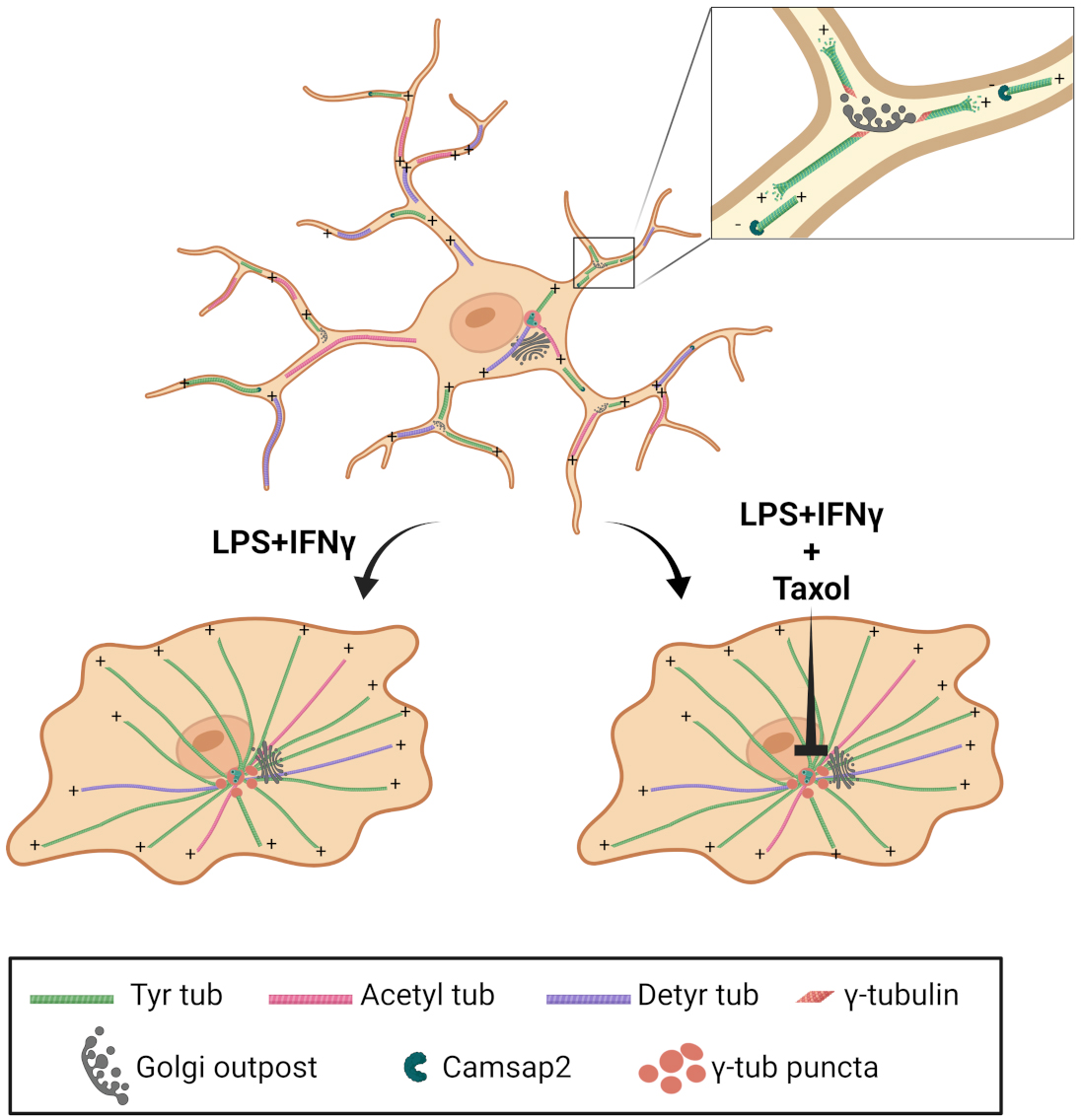 Graphical Abstract.
Microglia cell transition between homeostatic and reactive states is characterized by a dramatic reorganization of the microtubule cytoskeleton from a Golgi outpost-nucleated acentrosomal array to a pericentrosomal radial array to enable proper cytokine release.
In this manuscript, through in vitro phenotyping and in vivo validation, the Bartolini laboratory, together with collaborators from "Sapienza" University and the Institute of Technology in Italy, reports the break-through discovery that reactive microglia undergo a dramatic reorganization of their microtubule cytoskeleton, the most abundant cytoskeleton in the brain. As recently published in Cell Reports, we found that reactive microglia engage a unique example of microtubule transition from an array of parallel microtubules nucleated at Golgi-outposts to a radial array in which all the microtubules are anchored to a pericentrosomal region. Our findings suggest that this reorganization is critical for supporting the microglia "patrolling" and proinflammatory function, providing a novel target for reducing microglia reactivity in inflammatory and neurodegenerative disease. Given the role for spinal microglia in the remission and recurrence of neuropathic pain, this study may also pave the way to determine the contribution of microglial microtubule dysfunction in the etiology of neuropathic pain caused by chemotherapeutic drugs, most of which target the microtubule cytoskeleton.
These spearheading observations will set the ground to visualize microtubule remodeling as a dynamic marker of microglia activation, and to examine the impact of microtubule targeting drugs on microglia reactivity in neurodegenerative disease and microglia-mediated regulation of synaptic function.
Francesca Bartolini, PhD
Associate Professor of Pathology and Cell Biology at CUIMC
fb2131@cumc.columbia.edu